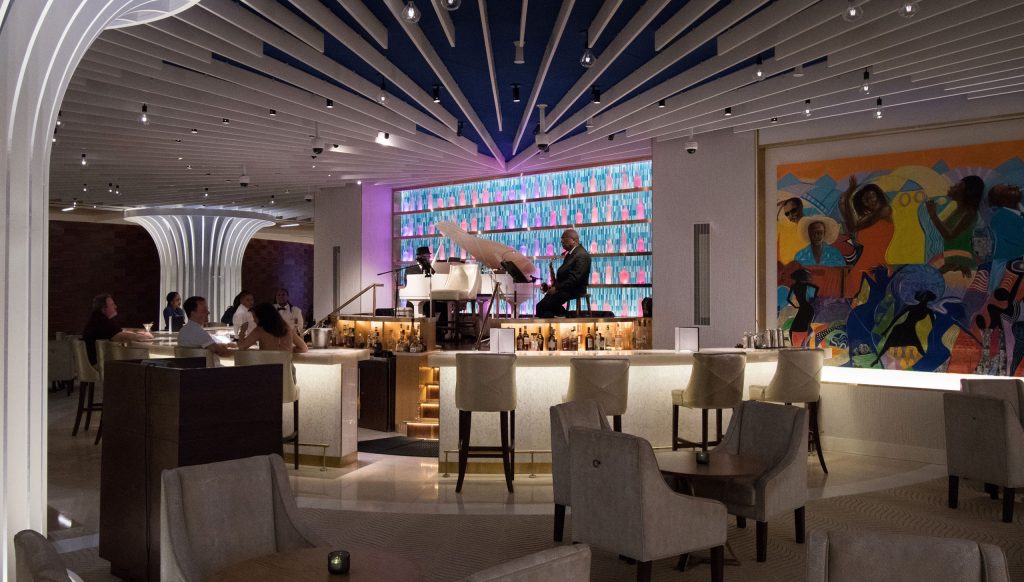 Restaurants and Bars at Baha Mar
The Baha Mar Resort includes more than 30 restaurants, bars and lounges, offering everything from steak and seafood to Middle Eastern, Asian, European and American cuisines, always with a special flair.
Think Simple installed the audio, video control and lighting control systems in 37 of the 38 venues open so far. Given management's goal of always offering guests a unique and memorable experience, they asked for and received out-of-the-ordinary AV systems.
In the majority of the restaurants, we used QSC Q-Sys Cores together with QSC amplifiers and Crestron ceiling speakers. Given their powerful audio processing capabilities, the Q-Sys Cores allowed us to provide the best possible sound customized for each space.
Because restaurant and bar managers need to focus on taking care of their guests, we installed extremely simple Crestron controls, set up so that audio levels and lighting levels adjust automatically with the time of day and week. But if managers or staff need to make an adjustment, they can do so easily from wall-mounted Crestron touch panels or wireless iPads, or both, depending on the venue. They always have full control of the venue's technology right at their fingertips.
In the Blue Note Jazz Club, we installed a performance audio system based on Renkus Heinz amplifiers, processors and loudspeakers, together with Sennheiser wireless microphones for voice and instruments.
In the Bond Nightclub, we installed a DJ booth, performance sound system, lighting rigs, fog and CO2 machines, and a spectacular video system that includes a 2,000 square foot ceiling-mounted LED display. 
Management has been so pleased with our work that they continue to hire us exclusively to help prepare new venues for opening, including the Costa, the Carne Chophouse, and the Sky Lounge.
Baha Mar main page – Convention Center – Bond Nightclub – Privilege Pool – Casino & Sports Book  – Outdoor Areas  – Guestrooms