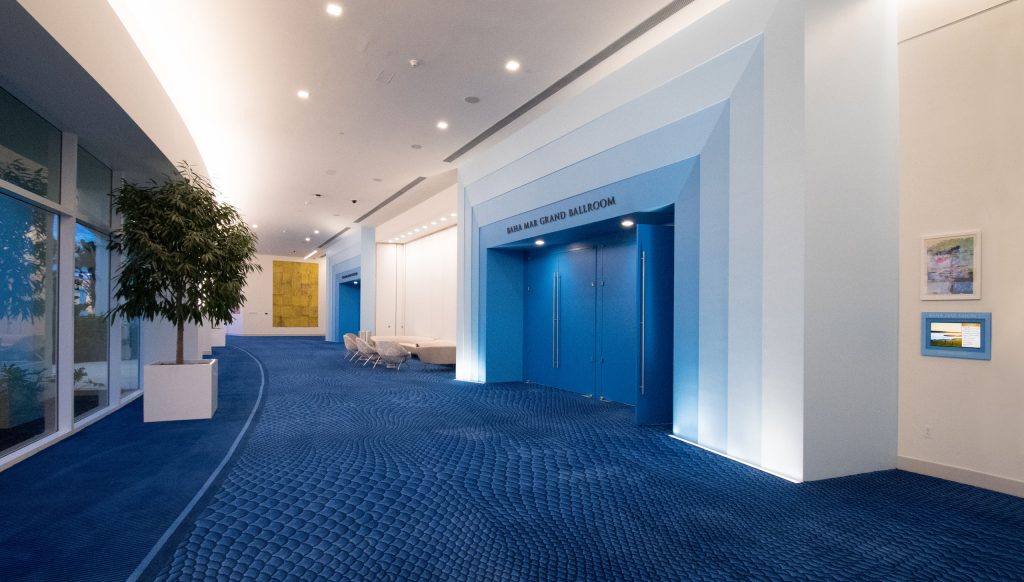 Baha Mar Convention Center
With a stunning ocean-side location less than an hour's flight from Miami, and with luxurious amenities including restaurants, nightclubs, golf, and the Caribbean's largest casino, the Baha Mar is an extraordinary place to hold a meeting, conference, wedding, convention or other large event.
The 200,000-square-foot Baha Mar Convention, Arts & Entertainment Center includes three divisible ballrooms, 16 breakout rooms, and 118,000 square feet of outdoor space, ideal for weddings, corporate receptions, and parties.
Think Simple installed all of the audio, video and lighting control systems throughout the facility, including…
House sound, background music and paging systems throughout the convention and meeting spaces, prefunction spaces and other public areas
Lutron lighting control in every meeting room
Outdoor sound and music systems in entryways, gazebos, wedding chapels, the show lake and other outdoor areas
Room combining systems in the divisible ballrooms, which automatically handle the separation or combing of audio, video and control systems
A Crestron DigitalMedia network running throughout the facility, which maximizes video and audio quality while simplifying setup and control
Projector lifts in the ballrooms and larger meeting rooms, monitor mounting points we installed in the smaller, and DigitalMedia input and output plates throughout the facility, all of which make it easy for Encore Audio Visual, the in-house AV rental company, to set up podiums, projectors, flat-panel displays, microphones and other gear as needed by clients for a particular event
Crestron wall-mounted touch panels and connected iPads make it simple to control all audio and video systems, and select configurations for the room combining systems
Throughout the project, we used only the best components, including Crestron switchers, scalers, input and output plates, Lab Gruppen amplifiers, and Tannoy CMS801 ceiling speakers and subs. Once we finished the installation, we tuned the audio systems with Smaart audio analysis hardware and software from Rational Acoustics, optimizing the quality of the sound. While this time-consuming step is standard for performing arts systems, it's unusual in a convention center. But Baha Mar management wanted the very best throughout the project.
Baha Mar main page – Bond Nightclub – Privilege Pool – Casino & Sports Book– Restaurants and Bars – Outdoor Areas  – Guestrooms