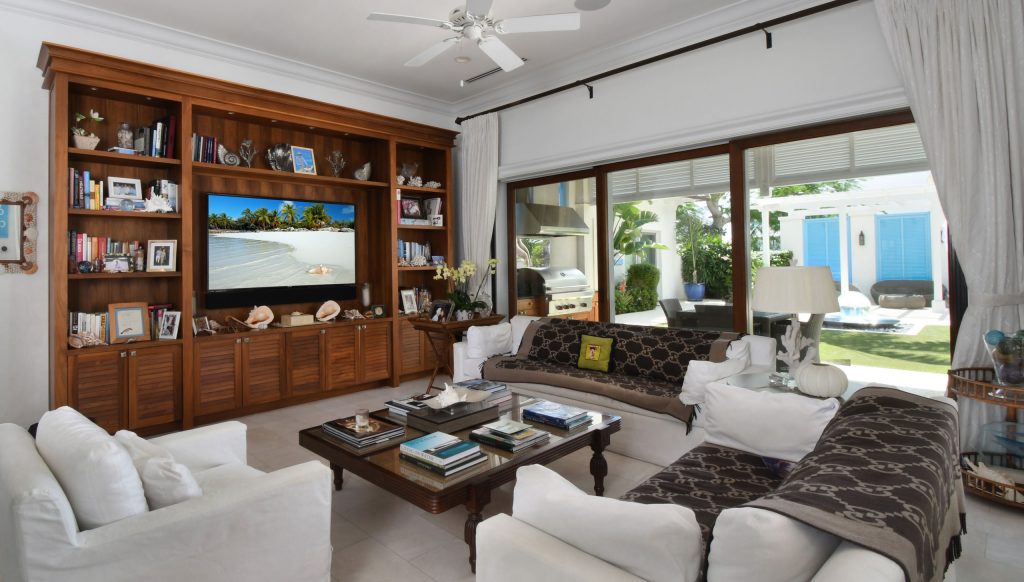 The Callender Home, Albany, Bahamas
It's an amazing place to live and to entertain.
When friends stay at the Callender home at Albany on New Providence Island, they have the comfort and privacy of their own cottages – but when they're ready to socialize, the house is ready, too.
There's a formal living and dining room perfect for conversation; a more casual family room, a theater, and a beautiful courtyard that joins the main house with the cottages. Family and friends can relax in the pool, converse in an outdoor living or dining area, or step through the back gate and take a short walk to the beach.
Designed by architect Chancey Design Partnership of Tampa, and built by Nassau-based Capstone Construction,  the 9,231-square-foot, two-story residence also includes an upstairs master bedroom suite, additional bedrooms, an eat-in kitchen and a wine room. The home is near the center of Albany, a gorgeous 600-acre oceanside community, complete with its own super-yacht marina and every amenity you could want.
The audio and video system Think Simple designed is amazing as well.
Family members and guests can play their own music anywhere in the home or outdoors, connecting their phones, laptops and MP3 players wirelessly with components in a central equipment rack. They can listed to online sources such as Spotify or Pandora, or virtually any other audio source: the music system allows up to 24 sources to connect at once. The system also divides the property into 30 audio zones, so they can play their music in any area or combination of areas they choose.
The video system is superb. The equipment rack, serving large-screen displays throughout the main house and cottages, includes DirecTV receivers, Blu-ray, and online sources such as Netflix and Amazon. We installed a 65" flat panel and surround sound in the family room, and a projector with 100" screen and surround sound in the theater. We mounted a 70" TV on the angled section of a tray ceiling in the master bedroom. We installed TVs in the cottages as well.
Florida Design Magazine called the home a "showstopper" and "a self-contained paradise on an island paradise." It is all of that and more – and a wonderful place to visit or to live
Read more about the house in Florida Design.