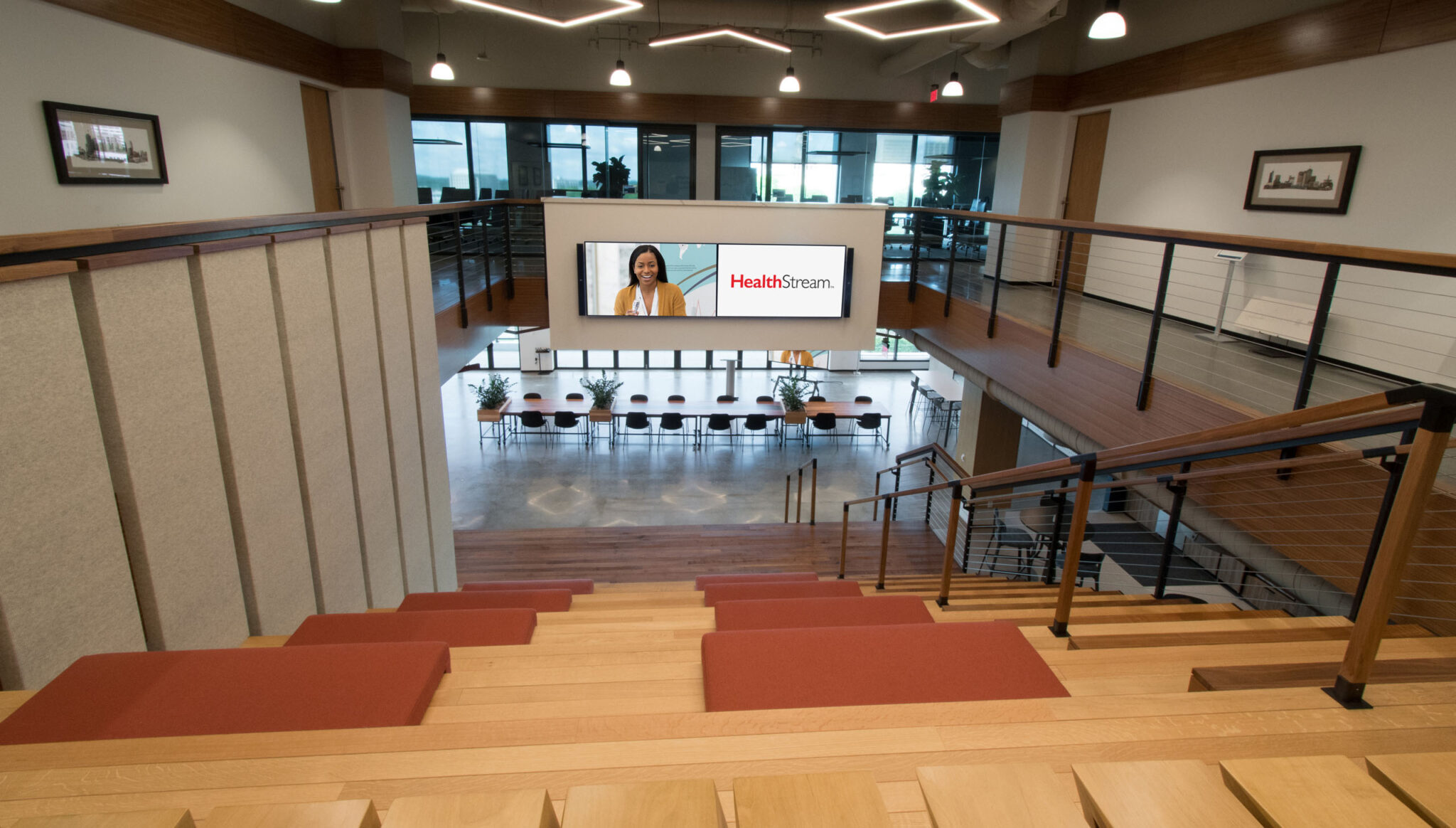 The Forum at HealthStream
The Forum is an all-hands meeting space used for quarterly, company-wide town halls plus large department-wide meetings. Everyone attends the town halls, normally with at least 400 on site plus another 750 – 800 via video.
"The town halls are very focused," explains Mollie Condra, Vice President of Communications and Investor Relations. "They're critical to our company culture because they help us relate what we're doing to our constitution and core values."
Each town hall takes place two days after HealthStream releases its quarterly earnings report. "Our CEO reports on our earnings, then poses a series of questions to the company," she explains. "Then we hear reports from each of our department heads about their progress on their Performance Incentive Program goals." These meetings are short –rarely over an hour– but very focused.
The focal point of the space is a large open area on the east end of the ninth floor, where staff can set up a podium, an 82" display on a rolling cart, temporary seating and perhaps tables for a management panel.
Opposite this 'stage' area is a stairway to the tenth floor with tiered seating and dual 82" displays. Facing the stage on the left is a large kitchen/break area and on the right an employee lounge, separated by a curtain wall that can be quickly pulled out of the way. Each of these spaces has its own audio and video system, but they can be combined with the central and stairway areas to create the larger Forum for the town halls.
"The Forum was the most challenging space of any we worked on at HealthStream, particularly for audio," says engineer/programmer Geoffry Ranson. First, the outside walls are glass, making reverb control a high priority. "Second, we spent a lot of time mapping out the room and programming the sound system, so that presenters can walk around as they wish without causing feedback."
To provide the best possible sound, the team installed two K-Array line arrays in the tiered central seating area plus 24 QSC ceiling speakers in the stage area, kitchen and lounge. The line arrays are "steered" using a Biamp TesiraForte DSP, keeping the sound pressure away from the stage and its wireless microphones and from the glass walls where it would reverberate. The ceiling speakers are much closer to the glass, but by keeping the volume level of each relatively low, nearby attendees can hear clearly but reverb is minimal.
Think Simple also installed a Vaddio PTZ camera, a 16×16 Crestron matrix switcher to handle signal routing within and between the three main areas, and a wall-mounted Crestron control panel. The break room has three Samsung flat panel displays and additional Crestron amplifiers and speakers. The employee lounge includes a 65" display plus a Crestron Flex, perfect for lunchtime workgroup meetings and lunch-and-learns that include remote attendees.
"We wanted something built from the ground up for our all-hands meetings," says Andral Johnson, network engineer. "The space is considerably more elegant than what we had in our old headquarters, and I think it helps promote a feeling of accessibility to members of the executive team for employees who rarely visit our headquarters."
The Forum, as used in the all-hands meetings, is the one room at HealthStream where the IT team sets up the AV system and remains on hand to support presenters. "When the executives do a presentation, they don't know what's going on in the AV rack nor should they. They only care if they're good to go, and with this system, they are."
Johnson has been appreciative of Think Simple's expertise and support. "In general, they have been rather good, actually," he says "They've taken responsibility for any issue that's come up, and they've been very good about providing the things we've asked for."
See also
HealthStream main page  –  The Strategy Room  –  Conference & Huddle Rooms  –  Digital Signage
Contact Think Simple today.