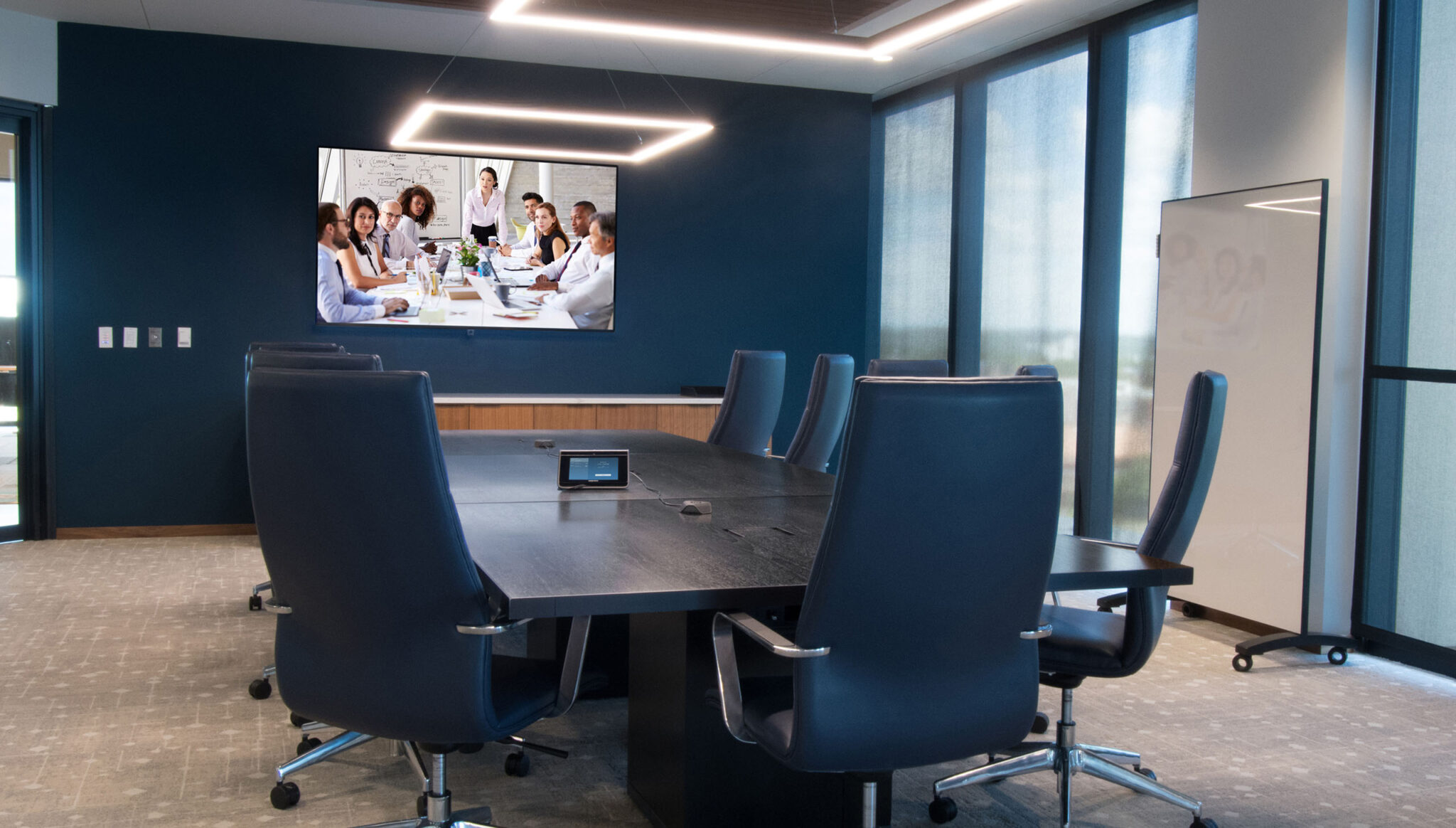 The Conference and Huddle Rooms at HealthStream
There are 48 meeting rooms at HealthStream based on the Crestron Flex and Microsoft Teams.. 43 are huddle rooms meant for two to six local participants, and five more are larger, with space for 12 to 24 people. Two of these are combinable using an air wall that retracts into the ceiling.
"Nearly all of the teams at HealthStream have members at more than one office," says Andral Johnson, Network Engineer. "For example, we hold a weekly meeting of the MIS team. There's a core group of us here at headquarters, but we usually have four to five working remotely that day or stationed in another office."
Crestron Flex makes it easy for everyone to get together via video. A team leader will typically reserve a room using an Outlook calendar, then, on the day of the meeting, plug his or her laptop into the Flex unit using a USB cable.
Once that's done, the room becomes an extension of the laptop, with microphones in the Flex picking up everyone in the room, and a wall-mounted flat-panel monitor, from 43" to 82" (depending on the size of the room) showing the people joining remotely plus any shared documents or applications. A camera on the top of the monitor picks up video of those seated in the room.
"In the larger rooms, Think Simple had planned to put in other Crestron systems, but our executives asked, 'Why not just use Flex?'" says Jeff Adams, Assistant Vice President, Business Operations. "They did it, and it's been great."
In addition to the Flex-based rooms, there are eight "developer pods" used for local meetings of up to 12 people. Think Simple installed a flat-panel display in each and Crestron AirMedia, which provides a very simple wireless connection from a user's laptop to the display.
There are ten more small conference rooms, also used for local meetings, in which Think Simple repurposed equipment brought over from the old headquarters. These include a flat-panel display and a Crestron switching system with a flip-top controller.
A nice thing about the Crestron scheduling system is its use of a 10.5" touch panel mounted outside each meeting room. It glows red if the room has been reserved, green if it's available, making it very easy for someone looking for a room on an impromptu basis.
"When our people need to hold a meeting, they don't know or care what's going on in the Crestron rack," Johnson adds. "They only care if they're good to go, and with these systems, they are."
See also
HealthStream main page  –  The Forum  –  The Strategy Room  –  Digital Signage