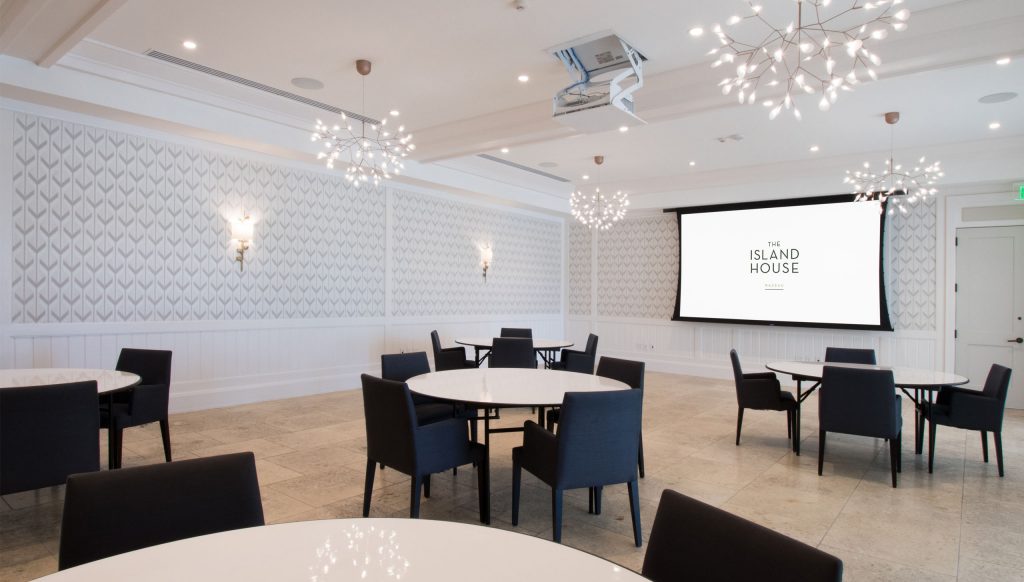 The Island House Event Center
Given its stunning, luxurious design, and its convenient location between Albany Bahamas and Lyford Cay, the Island House is the perfect place for almost any kind of event.  It is popular for weddings, private parties, local business meetings, and retreats for companies on the mainland, including sales meetings, executive planning sessions, and team building.
The property also hosts art exhibits, public events, and lectures and parties related to special showings at the Island House Cinema.
Thus the Island House Event Center, with its state-of-the-art AV system, has been a crucial addition to the property. It can host 80 people banquet-style, and up to 150 in a reception.
Think Simple designed and installed the AV system, using a 6,000-lumen NEC projector and a 100" diagonal tab-tensioned screen, both of which retract into the ceiling when not in use. In addition, we installed a superb house sound system using Crestron amplifiers and ceiling speakers, wireless microphones, and three laptop input plates to allow staff to set up the room in a variety of ways. A Crestron DigitalMedia network keeps audio and video quality high, and Crestron control keeps setup and operations simple.
Management and guest agree: It's an extraordinary place to hold a meeting or event.