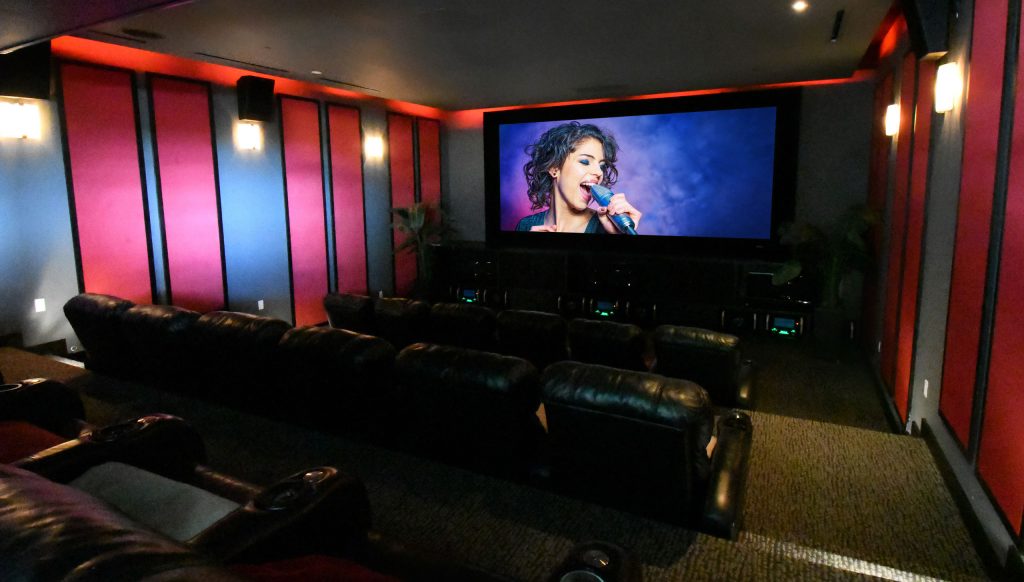 Albany Theater and Nineteen, Albany, Bahamas
Best known as the site of the Hero World Challenge, a PGA charity event hosted by Tiger Woods, Albany's championship golf course is something special. Designed by Ernie Els, it's a beautiful and challenging course with windswept dunes and scenic water features.
The clubhouse is special as well. In addition to the locker rooms, it includes Nineteen, a casual restaurant and bar with a private dining room and outdoor terrace, a pro shop, and the Albany Theater, an all-digital cinema.
With just 16  seats, the theater is perfect for private parties and client presentations. Yet it's open to Albany residents and guests for first run movies as well, with showings every evening.
For an optimal movie-going experience, Think Simple installed a Barco digital cinema projector and surround sound based on McIntosh monoblock amplifiers, speakers and subs. We included a Crestron multi-window processor that can show up to eight video images on the theater's projection screen — ideal for multi-game sports viewing and for high-impact client presentations. We also supplied the kind of seating most often used in high-end home theaters: plush recliners with soft, highly durable leather upholstery.
Throughout the clubhouse and outdoor terrace, there's a high-end background music system, plus large-screen TVs in the restaurant and private dining room.
Details like these add to the luxurious and exclusive nature of the clubhouse and golf course. They are one more reason why Albany is considered one of the world's most exclusive resort communities.