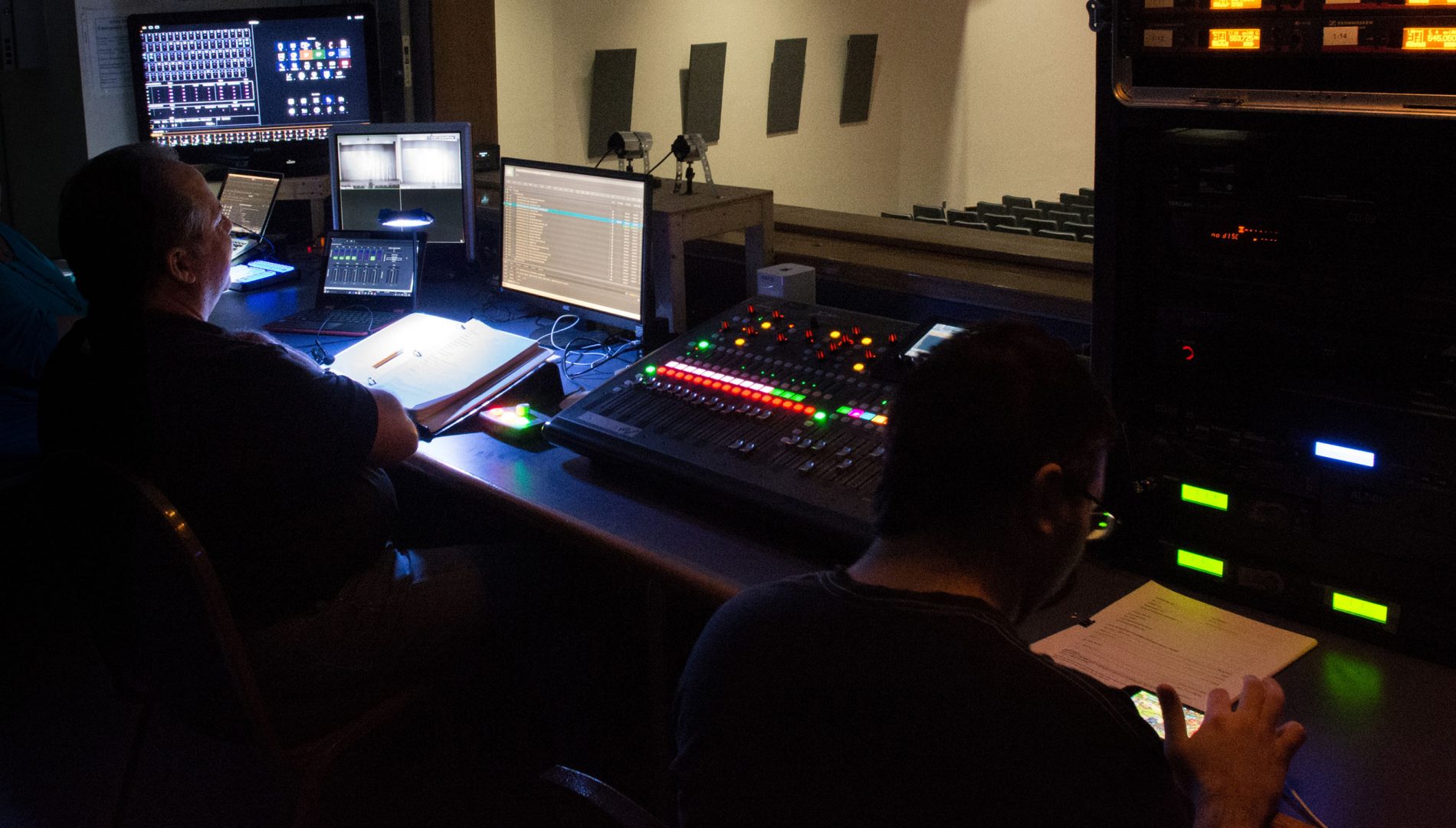 Electronic system design at the Susan B. Katz Theatre
With a plan in place to solve the Susan B. Katz Theatre's coverage and reverb problems, VIBE Design Group turned their attention to the wide variety of skills possessed by its users.
While they knew the audio engineers employed by the Pembroke Pines Theatre of the Performing Arts would need a mixing console, others would have no idea how to operate one. They solved the problem by tying in a digital signal processor and three more levels of user control.
He says he chose the console, a 32-channel Behringer, because it was able to switch back and forth smoothly with the Biamp DSP. The console gives knowledgeable audio engineers flexibility for more complex performances, whether, for example, it's a Broadway musical, an orchestra, vocalist or rock band. "But the DSP gave us the ability to lock away the basic tuning of the room and to set up presets for various users."
Among the choices is an advanced setting meant for professional users at PPTOPA. It unlocks the full power of the mixing console, including dedicated QLAB stems (multi-track digital files) that Gallagher designed, delivered via the Dante protocol, using MIDI control from the 32 channel console.
There's a more simplified setting for high school and junior high school drama departments. It also allows the use of the mixing console, but with fewer bells and whistles.
Then there's a basic setting, used in public meetings, for speech reinforcement. "You just push one button we set up on the stage and start talking," Gallagher explains.
"The Apple computer interface makes it much easier for us to control the big sound board," says  Mark Palazzo of PPTOPA. "On the night of a show, we can quickly load settings we've previously created, cueing them as needed during the performance." The troupe also uses the Mac to play sound effects, such as a phone ringing or a crash of dishes.
The iPad, he adds, "provides a master interface of many of the functions of the sound system without having to use the sound board or even the Apple computer. It's primarily used by the high school and middle school, and by many rental clients."
These simplified operations and the superb sound of the upgraded theater were a product of the close collaboration between the design firm and the installers. Gallagher and VIBE Design Group created the acoustical and sound system designs; Think Simple handled all of the installations and the programming of the DSP; Gallagher tuned the sound system for the room; VIBE and Think Simple worked together on the programming of the mixing console.
"The quality of the sound coming from the new system was a surprise for many of our patrons," Palazzo says. "They made it a point to tell me that it was far superior to what we had in years past, and I agree with them. It's made a tremendous difference for us."
____________
Susan B. Katz main page – Loudspeaker and acoustical design at Susan B. Katz