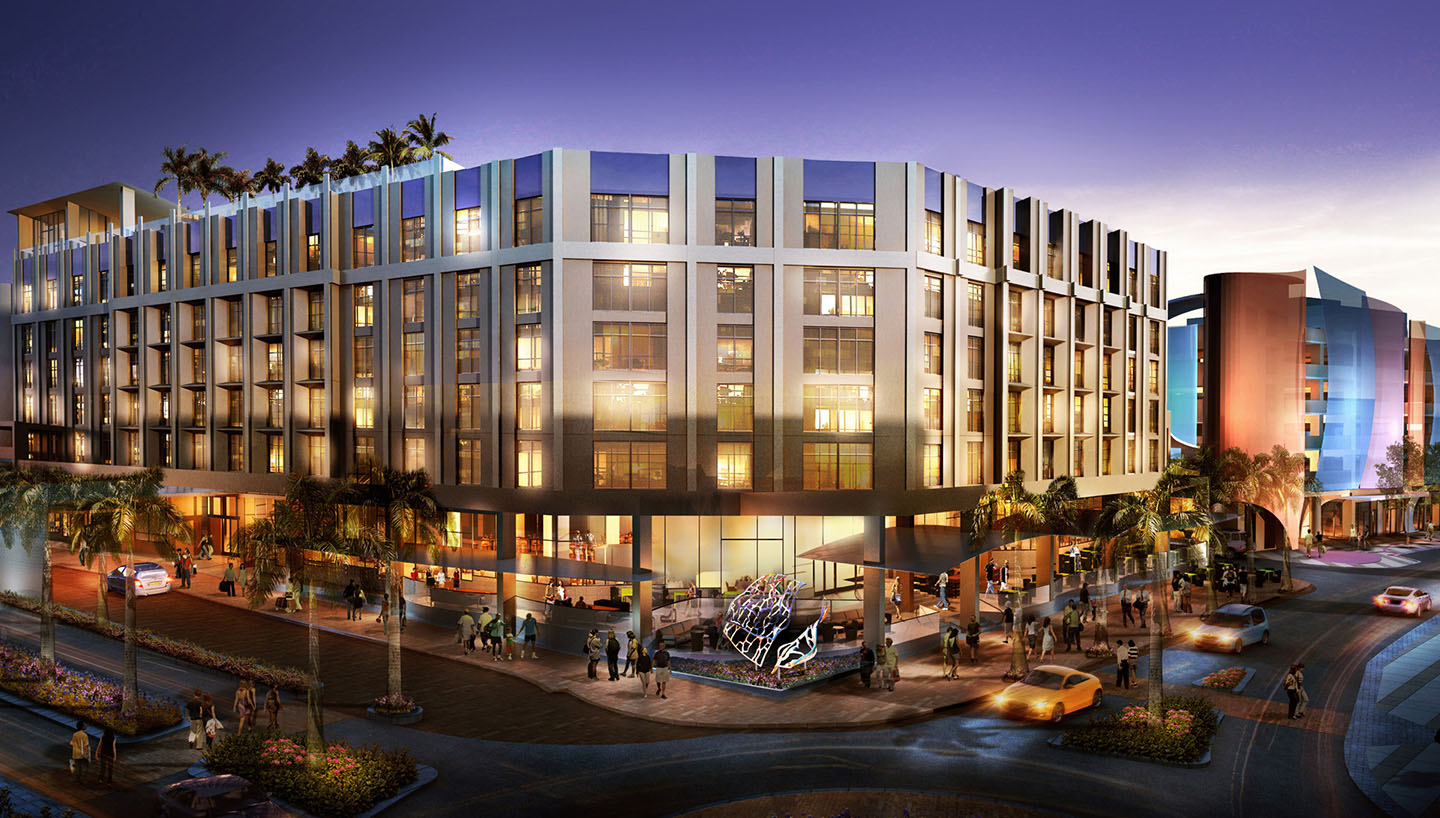 Art Ovation Hotel, Sarasota
For almost a century, the city of Sarasota has been a magnet for art lovers. In 1925 John Ringling, the circus magnate, built the city's Museum of Art and in 1931 funded the Ringling College of Art and Design. Both flourished and established the city as an artists' colony and mecca for art, theater, music, film, animation and design.
Now the Art Ovation Hotel, through a partnership with the Ringling College, is combining luxurious accommodations with rotating art collections, an Artist in Residence program, and VIP packages to area art, music and theater events and experiences.
The 162-room boutique hotel, located steps from the bayfront and downtown arts district, also includes a 6,100 square-foot ballroom, restaurants, bars and a beautiful rooftop pool and bar.
The AV technology, designed and installed by Think Simple, is unique and powerful. As you enter the porte-cochère, your eye is drawn to six SunBrite outdoor TVs installed in the ceiling, showing digital artwork. The lobby is gorgeous with paintings and sculptures, and it includes projector hang points for temporary displays of animations and videos produced at the college.
We also installed background music in the lobby, bars, restaurants, and other public areas, and, on the pool deck, a projection mapping system that produces uniquely beautiful nighttime effects.
The ballroom, able to seat 430 for a banquet or wedding or 678 for a lecture, is divisible in seven different ways, a process made easy by a simple-to-use room-combining sound system and DigitalMedia video distribution system. We permanently-installed a 7,000-lumen Christie laser projector and a 16' x 10' recessed screen, but we included 17 additional projector hang-points that make it easy to set up any kind of meeting or event. We also installed a 65" smart TV in a separate boardroom.
While a local electrical contractor installed the lighting systems, Think Simple designed, programmed and commissioned Crestron lighting controls used throughout the property, including the lobby and public spaces, the conference center and the guestrooms. We also installed and programmed Crestron controls to simplify operation of the audio, video and lighting systems, with touch screens in each section of the ballroom, pre-function space, boardroom, fitness room, bars, restaurants, pool area and concierge desk.
Since its opening in April, the hotel has garnered outstanding reviews, including a 4.5-star average on TripAdvisor and Orbitz and 4.8 on Marriott.com. "I really enjoyed being surrounded by the incredible art within the hotel," writes one guest on TripAdvisor. "The staff was amazing and helpful in every way…You can really see that management was thinking of their guests when they designed this gorgeous hotel. The ballroom was exquisite and was the centerpiece of all the events I attended."