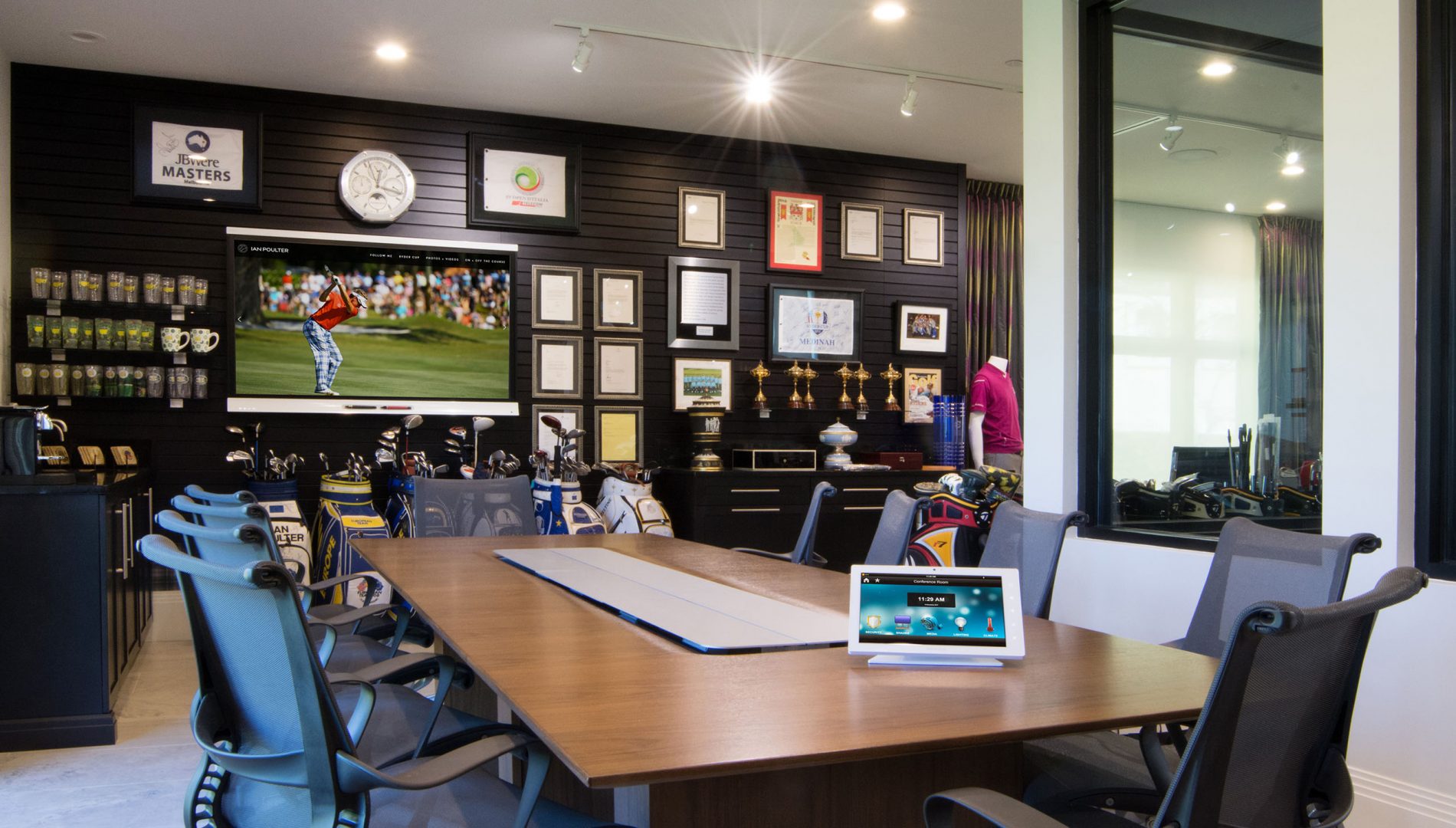 Ian Poulter's office and conference room
As in the car showrooms, the AV systems in Ian Poulter's office provide high impact but are exceptionally easy to use.
There are two displays in a conference area. One is a 65" Samsung 4K display that Poulter can use to show marketing materials or videos; the other is a SMART kapp 42″ interactive whiteboard.
Like any SMART interactive product, the SMART kapp can be used as a whiteboard or as a computer or video display with the ability to write over a large-screen image. But it also allows Poulter to work with anyone anywhere in the world to share plans, drawings, photos and video, mark them up together, talk about them, and save the results.
"The big thing," says Will Gilbert, "is that it's extremely easy to operate. You just walk up to it and it turns itself on, then displays a QR code. Scan that code with your phone or tablet and it instantly connects. Once connected, you send anyone a link using the kapp app and your contacts list." Everyone sees the same image, and if someone marks it up on their local computer or mobile device, everyone sees the markups as well.
During a sponsor or charity event, the office becomes the command center for the entire property. Using Crestron AirMedia Poulter and his partners can send materials from their laptops, phones or tablets to all the displays on the property, with audio going to the Crestron Multiroom sound system. A wall-mounted, 15" Crestron touch screen, custom painted in Ferrari red, makes it easy to choose which displays and audio zones get whatever source, and the DigitalMedia network ensures that everyone sees the best possible image.
Even the outdoor courtyard and the lawns outside the Corporate House can be used during an event. "Ian will bring in chefs, servers and, depending on the season, an air-conditioned tent," Gilbert says.  The  Multiroom Audio System extends into the outdoor areas, with Crestron AIR® outdoor speakers and subwoofers strategically placed. There are DigitalMedia hookups as well, so staff can set up televisions or projectors outdoors or inside a tent.
Corporate House main page – The car showroom – Events at Corporate House