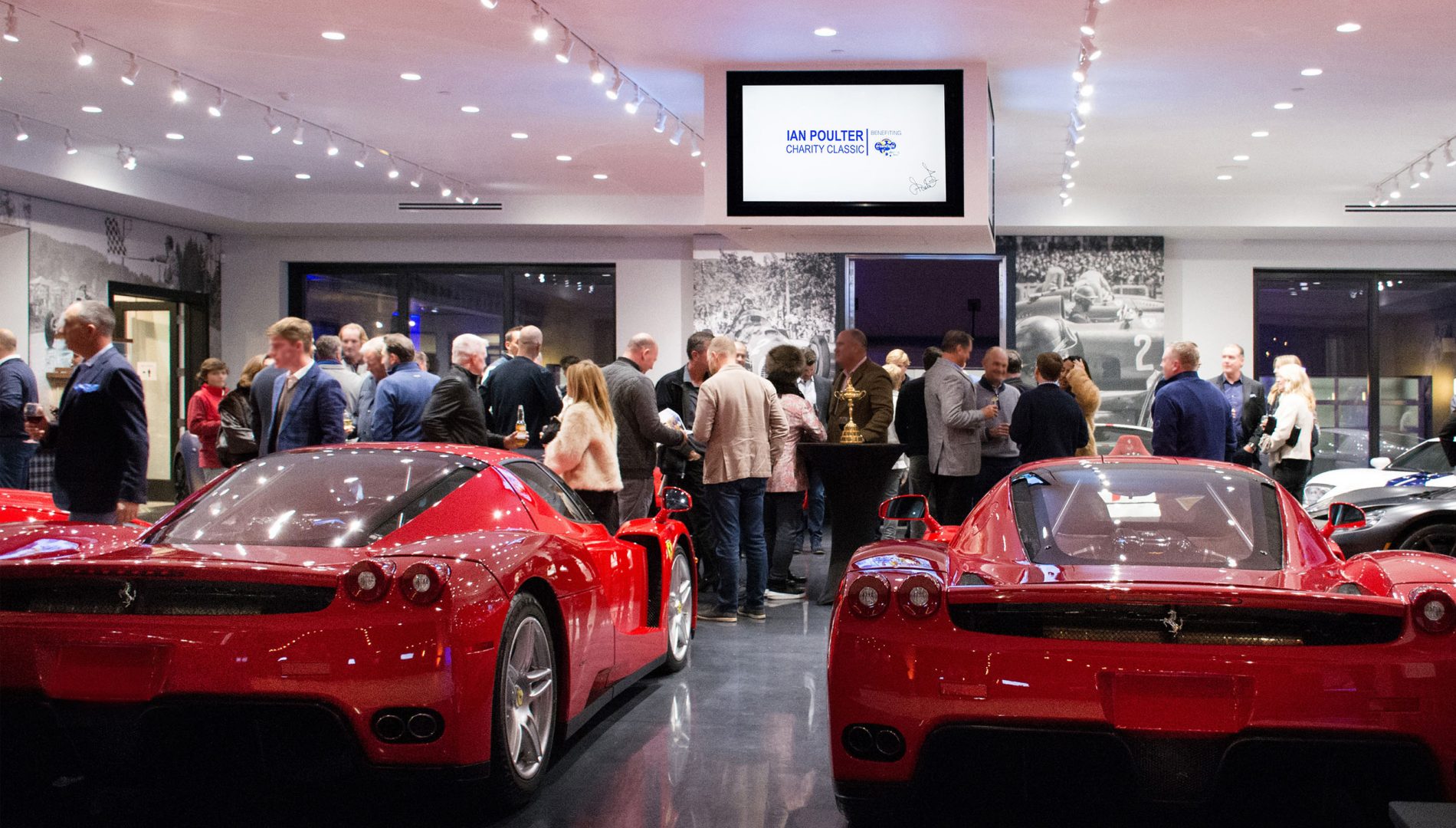 Ian Poulter's car showroom and event center
"The toughest part of this project was accommodating the cars, in particular the fire code requirements for a burn-proof floor and ceiling," says Will Gilbert, Think Simple partner. The hard surfaces left open the potential for a lot of noise and reverb, but the firm could not put acoustical treatments anywhere but the walls. Then, too, the four-sided, 65" jumbotron had to include fire protection, with a sprinkler head in its center between the displays.
Despite those limitations, Think Simple was able to include some remarkable details. Working with Magnolia Design Studio, the firm contracted with Brad Turpin of Overtone Acoustics to print floor-to-ceiling murals on canvas over sound-absorbing panels. "It took over a month to print them, but they look phenomenal, and they do a great job," Gilbert says.
Even more impressive are the Opus Books displayed on two 55" Ideum Touch Tables in the larger of the two showrooms, each built into a custom walnut standing desk. "Opus makes very detailed, very luxurious large-format books on a variety of topics," Gilbert explains. There are Opus books Michael Jackson, Ferrari, Arnold Palmer and other important people and cultural effects. "Ian owns quite a few of these books, and he was able to secure the digital rights to the complete collection."
Starting with the original for-print pdfs of each book, Gilbert and his team worked with Ideum to convert them for display on the Touch Tables. "What is special about these books is that they are extremely high resolution, with no pixilation or artifacts. You can turn the pages and go from book to book without delay. Creating something that nice from these multi-gigabyte files was actually quite a challenge."
The Touch Tables, the jumbotron and the property's other 4K displays are all connected via a Crestron DM-MD32X32 switcher. Using DM, the team was able to deliver extremely clean video everywhere, whether for sponsor videos, television, entertainment or messages.
With the acoustical panels in place, Think Simple was also able to create a superb music system, based on a Crestron Sonnex Multiroom Audio System with Crestron  Essence® and Crestron Aspire® ceiling speakers and in-wall subwoofers, and Crestron AIR® outdoor speakers and subs.
The game room includes a multi-player, arcade-style racing game with Crestron 7.1 surround sound, a huge hit with guests. The games are connected via a property-wide, gigabit wired and wireless network, installed by Think Simple.
Corporate House Main Page – The Office and Conference Room – Events at Corporate House