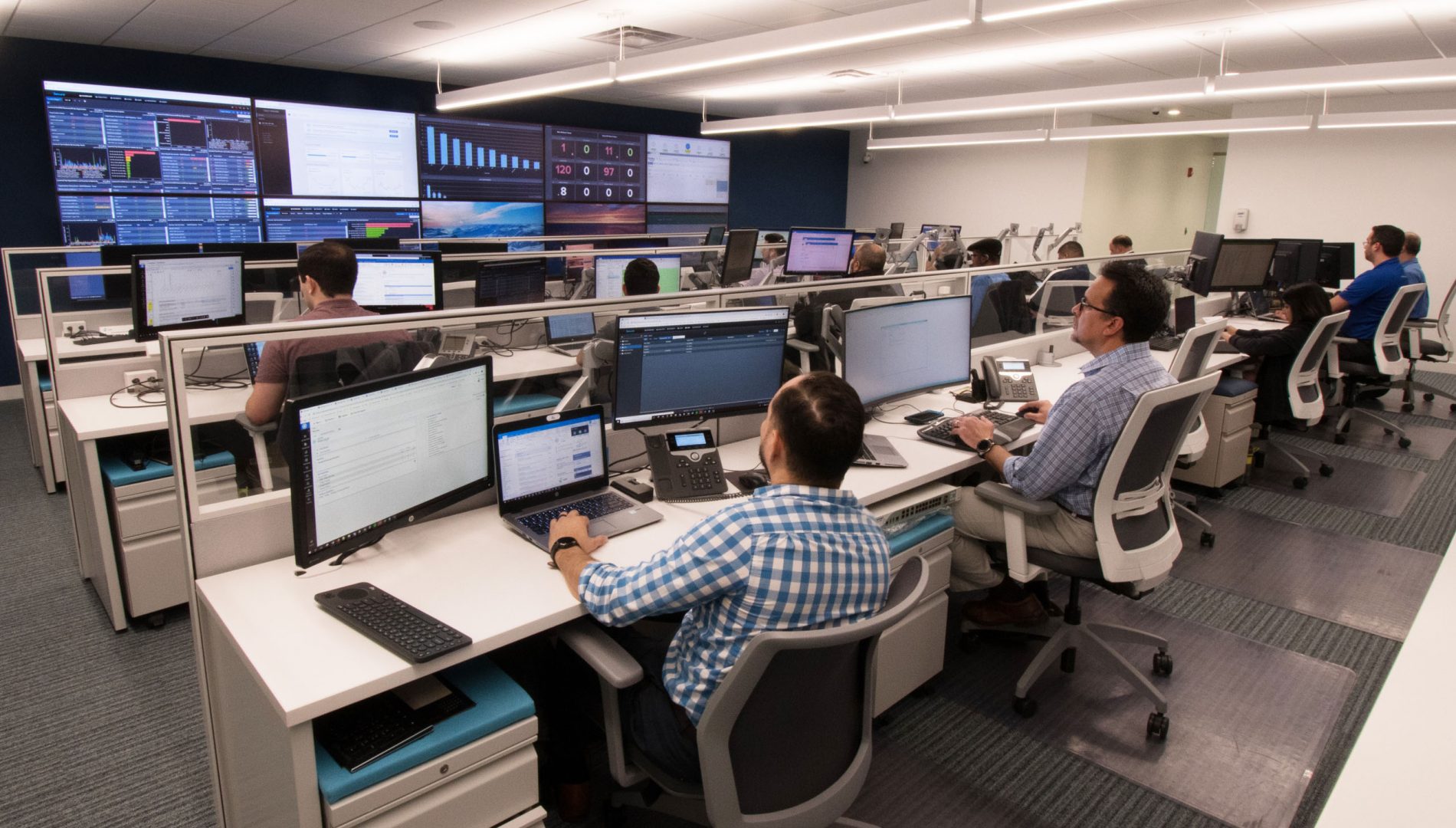 United Data Technologies Headquarters, Miramar, Florida
What kind of AV systems do the fastest growing technology companies choose for their own offices?
For United Data Technologies (UDT), named by the Business Journal as one of the top ten technology firms in South Florida last year, it's a suite of six video collaboration rooms plus a network operations center, all with AV systems designed and installed by Think Simple.
UDT's rapid growth requires outstanding communications, so it was crucial that the new systems provide quick and easy connection to clients and staff at multiple locations.
And given the company's reputation for excellence, only the highest quality sound and video would do.
A new headquarters
UDT is a full service IT integrator with offices in Florida, Tennessee, Oklahoma and Texas, designing and installing collaboration, data center, cloud, security and mobility systems for clients in business, education and government sectors.
Think Simple has worked closely with UDT and their clients since 2014, helping the firm enhance their IT services with our special expertise in high-end sound, video and system control.
In planning the new headquarters, management at UDT knew they would need a large space for client presentations and management meetings, and several smaller spaces for their technical teams to meet, all with advanced collaboration capabilities.
Because network monitoring and support is one of their key offerings, they also planned to include a large network operations center (NOC).
We designed, engineered and installed the needed technology in seven new rooms:
A new boardroom optimizes sound and video quality for local meetings and presentations as well as collaborative sessions with clients and staff anywhere around the world.
It includes a two-camera system using Cisco's top-of-the-line SX80 telepresence codec, Cisco Precision 60 cameras, dual 80" Samsung displays, and a Crestron 4K DigitalMedia network.
Eight wireless Revolabs table microphones provide very high quality pickup of participants' voices within the room, and a Crestron amplifier and ceiling speakers allow them to hear clear, natural sound from people at far-end locations. Three pop-up DigitalMedia input panels make it easy for presenters to connect their laptops into the system, or they can connect wirelessly via Crestron AirMedia. There's also a Samsung Flip, a digital flip board on which meeting participants can write hand-written notes visible within the room and at far-end sites.
As with any room of this size and complexity, we knew the user interface had to be simple and intuitive. We used a Crestron 3-Series control system to automate much of the operation, making it easy to connect to one or more remote locations, speak in a natural tone of voice, share images from a laptop or the Samsung flip board, and work together on a shared document.
Users control everything with a Cisco ten-inch touch screen, which we tied to the Crestron system using Crestron's Cisco Room Devices application.
The Network Operations Center provides space for up to 24 operators to monitor and troubleshoot clients' networks, sharing critical information with each other on a video wall built from ten 80" diagonal Samsung displays in a two-high, five-wide configuration.
We designed and installed the video wall, a routing system based on a Crestron DigitalMedia network and matrix switcher, a Crestron 3-Series control system with a Cisco 10" touch screen, and a sound system based on a Crestron audio amplifier and Crestron ceiling speakers.
Five huddle rooms provide smaller spaces for workgroup meetings. Each of these include a Cisco SX80 codec, a single Cisco camera and a Cisco or Samsung display.
Open since January, the new conference rooms are in heavy use nearly every day. The NOC, of course, is open 24/7/365, helping UDT provide ironclad dependability and security for their clients' networks.
As UDT continues to grow, the new AV systems will grow in importance as well. They are at the heart of the company's ability to collaborate with clients and staff anywhere across the country or around the world.