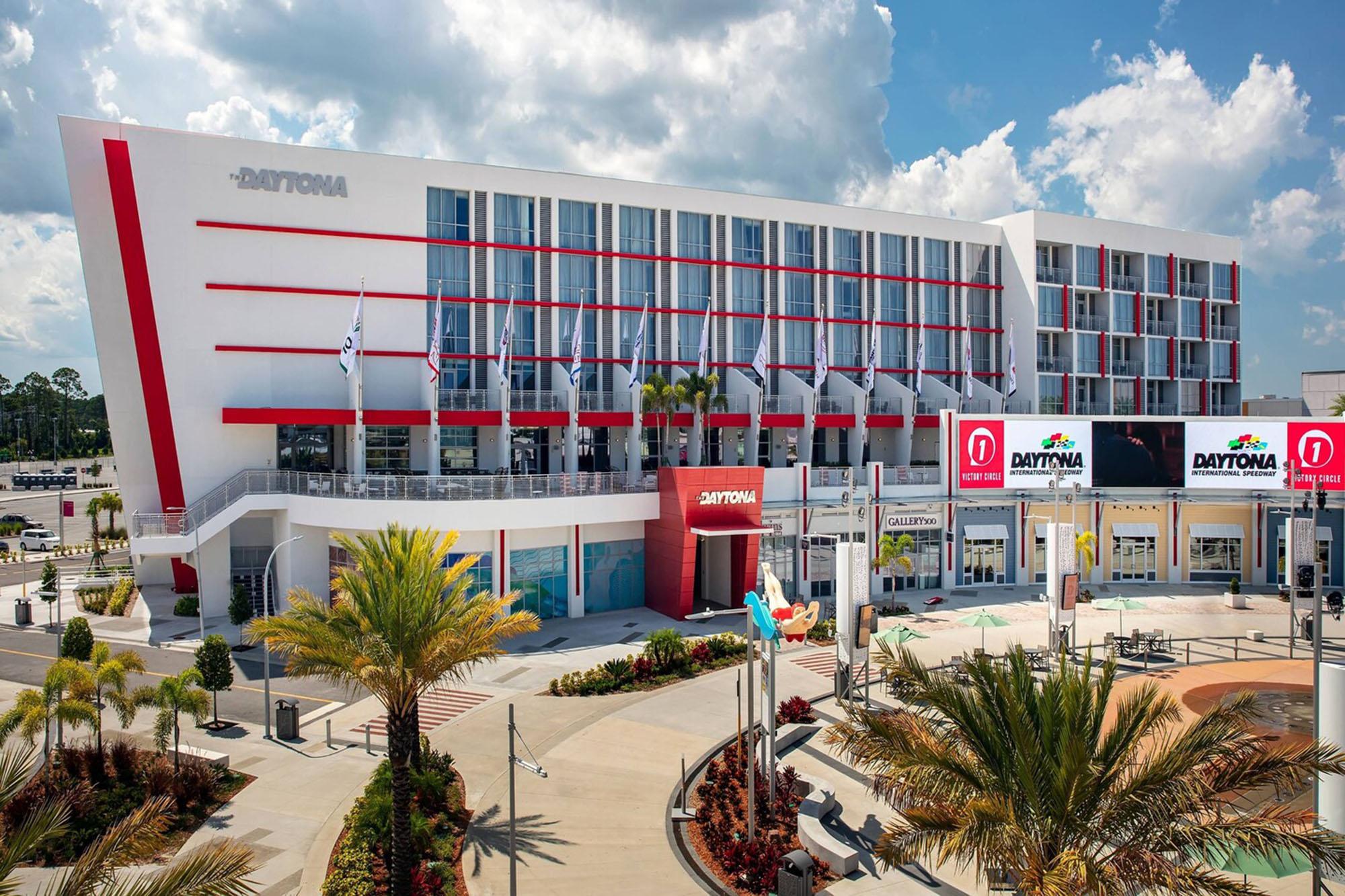 The Daytona Hotel, Daytona Beach
A Mecca for auto racing fans, the Daytona brings upscale lodging, dining and meeting space to the Daytona Speedway and the One Daytona lifestyle center.
The six-story Autograph Collection hotel is located on the north side of One Daytona's Victory Circle, right across the street from the speedway.
The layout and décor are as extraordinary as the location. The lobby, meeting center, restaurant and bar include racing themed amenities and vintage NASCAR racing cars. Outside is a huge LED video display used for welcome messages, event information and marketing messages.
The technology installed by Think Simple is extraordinary as well.
The lobby and restaurants
Will Gilbert, who was in charge of the project for Think Simple, says his goal was to create audio, video and control systems that would not only be high impact, but highly reliable and simple to use.
"Guests have very high expectations for the technology in a hotel and conference center, but management can't let it eat up their time," he explains. "Your focus, and the focus of your staff, has to remain on the guests, not setting up AV or dealing with a problem with the air conditioning."
To reach this goal, the Think Simple team started with very high quality components. For example, they designed a multi-channel audio system, used throughout the lobbies, restaurant and public areas, based on a Q-Sys Core 110f processor, QSC amplifiers, and Crestron and Tannoy ceiling speakers.
"It's more than just background music," Gilbert explains. "This is a high performance system that can add real excitement to a party or event."
To simplify operations, they installed a Crestron lighting, AV and climate control system, together with the Bodhi Building Management platform, which allows managers to schedule sound, projection and lighting setups in advance of a client event, then adjust them in real time, while providing significant energy savings, advanced analytics, and a predictive maintenance module that works to prevent HVAC, lighting and AV system glitches and failures.
"In the restaurant and bar, Bodhi can schedule and control the color and intensity of the lighting, together with the audio source and volume levels, by time of day, day of the week and for special events," Gilbert explains. "In doing so, it actually schedules the mood the sound and lighting sets, creating, for example, a more intimate atmosphere for dinner and evening socializing than you might want at lunch."
"Throughout the property, Bodhi gives the managers a level of flexibility and control that you just can't get with a traditional control system."
The conference center
The hotel's beautiful Echelon Meeting Room offers 2,637 square feet of event space, including a divisible meeting room that can seat up to 266 people, a pre-function area and outdoor terrace.
Think Simple outfitted it with a 7,000-lumen Sony laser projector, Da-Lite motorized screens and a state-of-the-art sound system based on a  QSC Core 500i with Dante audio processing, Lab Gruppen amplifiers, Shure wireless microphones, Crestron Saros ceiling speakers and a Crestron control system with a wall-mounted Crestron touch screen and portable iPad controls.
"The quality of the projection and sound, using this installed system, is exceptional, and setup is super-simple," Gilbert notes. "The guest has a much better experience, while staff are free from the constant setup and breakdown that portable equipment requires."
So far, management and guests have been impressed.
One review on Yelp said, "Crazy cool hotel by the Daytona track…"
Another, "E V E R Y T H I N G about this hotel is amazing!"
A third, "I've been coming to Daytona for 30 years, and have stayed in dozens of hotels in and around the city.  This is the nicest of them all, and by far… There are very few properties in the world that have met every one of my expectations and exceeded most, and this is one of them.  I spend 250+ nights each year on the road."