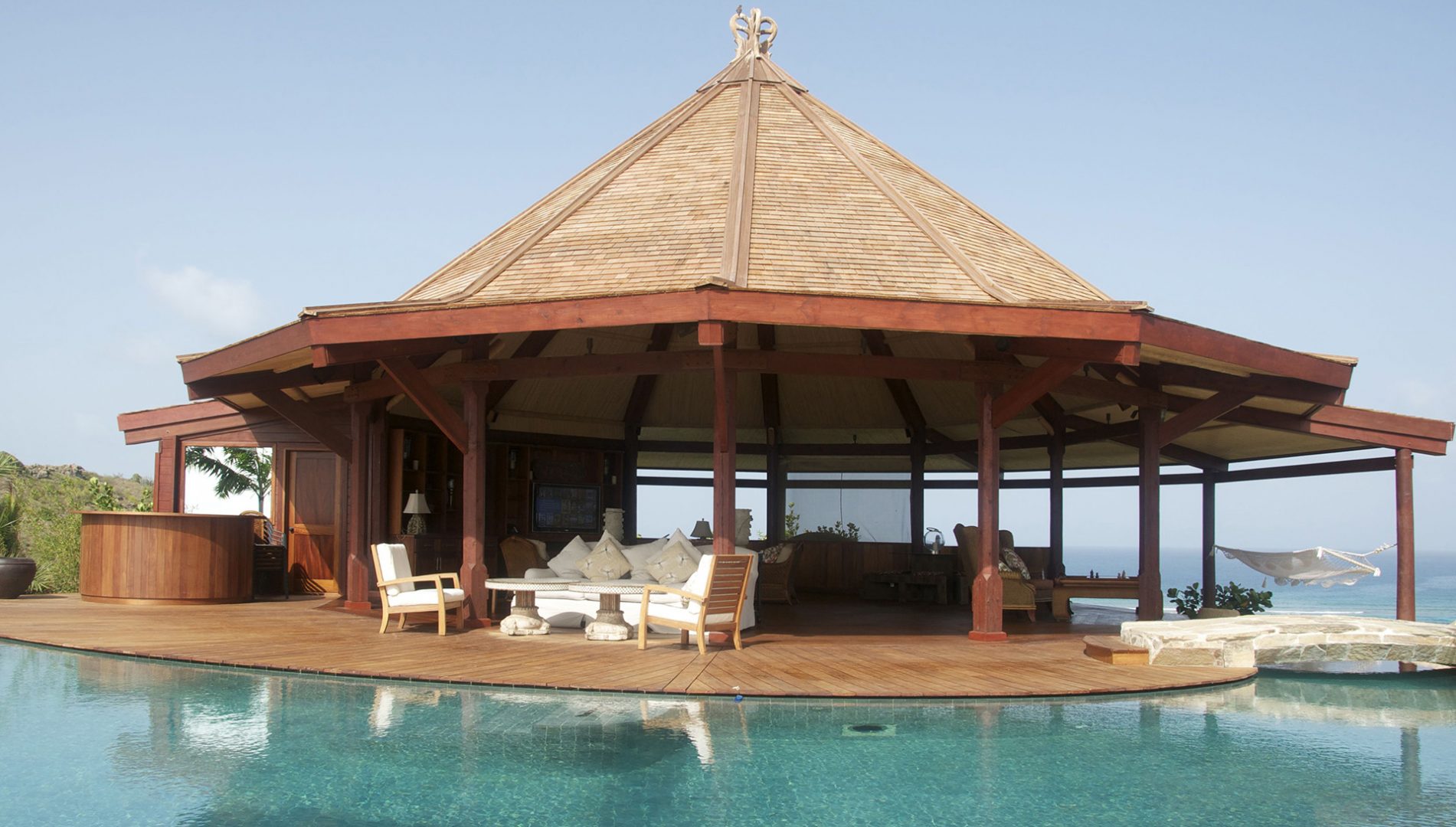 The setting of Sir Richard Branson's home is extraordinary. He can watch the sun rise over the Atlantic and then set into the Caribbean, without having to leave his sofa. Though roofed, his personal living/entertainment space, which he calls the Temple Room, is open to sea breezes and provides almost 360-degree views of his 74-acre private retreat, Necker Island.
It's a surprisingly simple home for Branson, the founder of the Virgin Group. Although there are other buildings on Necker Island, his own residence consists of three small, separate structures: the Temple Room plus a bedroom and a kitchen.
Think Simple technicians installed large-screen TVs into each of these spaces, plus a multi-zone sound system with three iPod® docks. They installed a local area network and Internet connections as well, plus a Kaleidescape video server in a larger building ¼ mile away, to make Sir Richard's entire movie collection available to each of the TVs.
A Crestron control system makes everything incredibly easy to use. Branson prefers to operate his electronics from a handheld remote control, which Think Simple chose for its extreme simplicity and reliability. Think Simple also installed Crestron keypads in each room as an alternative in-wall control for the music.
Installation challenges
As straightforward as the system is, making it work was anything but.
The Caribbean environment is very harsh. Because the island's salty air is highly corrosive, exposed surfaces and all connections had to be marinised, a process where a barrier material is applied to keep out the salt air.
The second problem was absorbing power variations and possible power interruptions. Necker Island produces its own electricity through two large generators. If the generators have any problems, or when power is switched from one source to the other, the resulting sags, spikes and surges can have a very damaging effect on electronics. For that reason, Think Simple deployed a series of uninterruptible power supplies, which use batteries to filter the power and make sure it's perfectly consistent. These intelligent devices are also able to shut down when not in use, reducing power consumption and utility costs.
The biggest challenge was lightning, a recognized danger in the Caribbean. Given this  concern, Think Simple avoided the use of copper cable whenever possible, transporting audio, video and Internet signals via non-conducive fiber optics.
Because of Sir Richard's wish to enjoy but not see the technology around him, all of the speakers were hidden in walls, under the floor or in other discreet, out-of-sight locations. To withstand the harsh Caribbean climate, the crews used James 3" solid teak-enclosed speakers combined with an underground subwoofer in both the master bedroom and kitchen and two subwoofers in the Temple Room. They installed three Aquasonic underwater speakers in the swimming pool so Sir Richard can enjoy music or TV audio while swimming.  The TV in the Temple Room is completely weatherproof.
It took an eight-man crew 28 days to install all the wiring and components, traveling from a temporary base on the nearby island of Virgin Gorda. Yet because the location is so remote, they wanted to make sure they used only the most reliable and well-proven components.
Sir Richard appreciates the effort. His only comment: "This is absurdly good!"