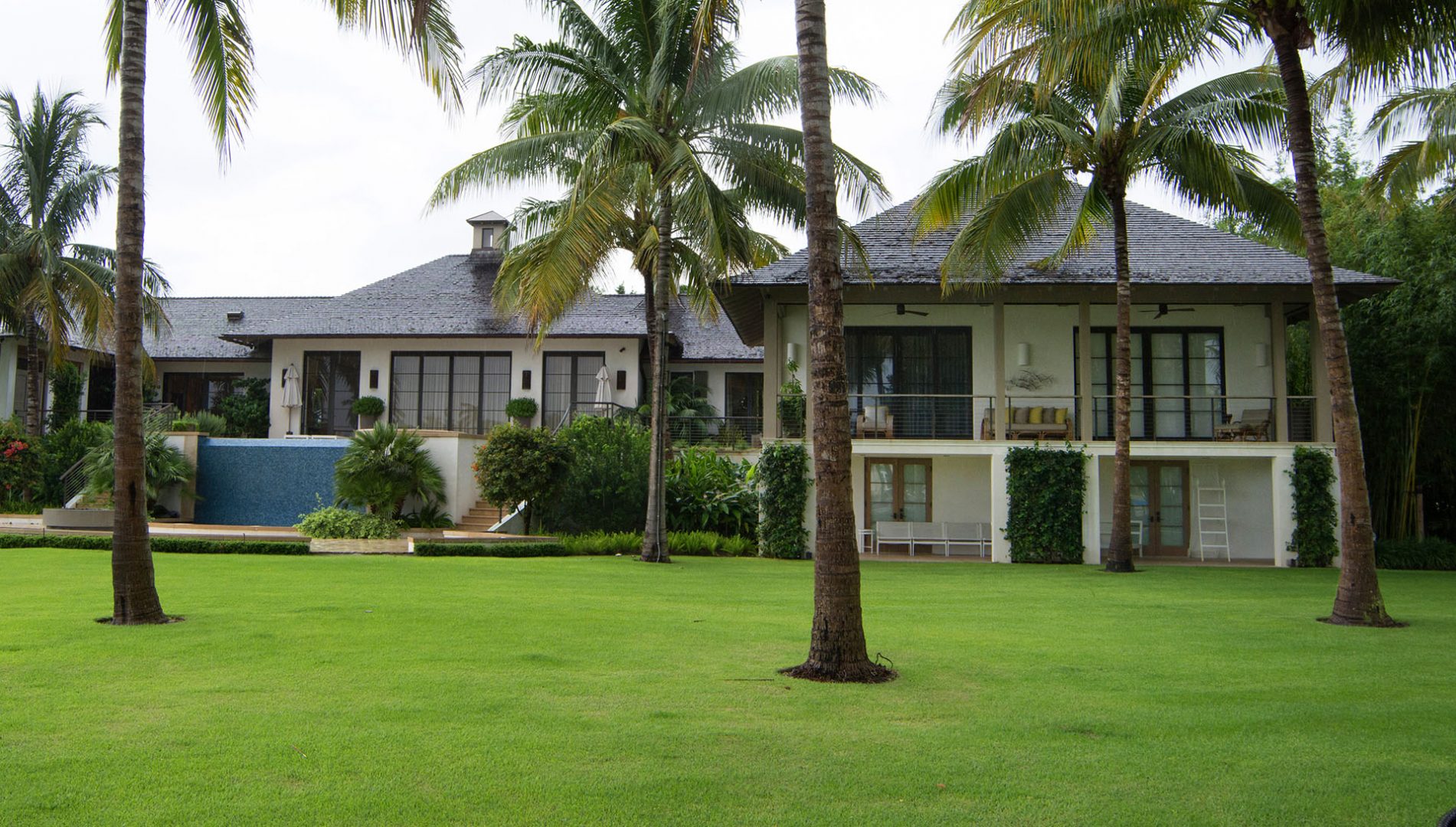 The Engelhardt home, Naples, Florida
"Guests of our guests may not bring guests" is a rule that is repeatedly broken at the Engelhardt residence in Naples, Florida. Suzanne and Irl Engelhardt love entertaining and often have people over for extended visits.
Located on a quiet street near the mouth of Naples Bay, this unusually bright and open home was designed by Clemens Bruns Schaub Architect and Associates and built by Kurtz Homes Naples. It has a private dock on the Gordon River, yet is steps away from a beach on the Gulf. Each of its five bedrooms has a private patio, but when guests are ready to socialize, they do so in the home's center, complete with a living room with floor to ceiling windows that retract, two swimming pools, and a beautiful kitchen and dining area.
"After dinner, we always love to watch something" Sue says. "It can be an action movie, a drama or Downton Abbey. We take turns deciding what it will be, but we watch it together."
The living room
The Engelhardts' living room is something special. Think Simple equipped it with a media system with a Sony projector and a huge projection screen, 85" Samsung TV and James surround sound, but they hid everything behind a beautiful piece of fabric art by Olga de Amaral.
Learn more about the living room
The kitchen
The kitchen won a prestigious Kitchen Design Contest (KDC) award and is a wonderful gathering place for family and guests.
Think Simple included a built-in Samsung television and stereo audio, plus a large Crestron control panel for the home's audio-video, lighting, shading, climate and security systems.
The bedrooms and office
At the Engelhardt house, each guest gets a mini master suite, with luxurious appointments and a private patio.  The master bath includes custom-built vanities with Seura mirror TVs, sized perfectly to catch up on the news while getting ready for the day.
Learn more about the guestrooms, offices and master suite
Network, lighting and security
In addition to the AV systems, Think Simple installed the home network, a home telephone system including a cellular antenna,  and Crestron controls to integrate the security, lighting, shading, climate and AV.
As concerned as she was about sound and image quality, Sue Engelhardt did not want to look at the technology when she wasn't using it. Think Simple installed an equipment rack in the attic, mounted speakers in the ceilings, and hid TVs in cabinets whenever possible.
Think Simple owns its own "CNC" computer-controlled lathe and milling machine, which they used to build bronze plates for security cameras and wood plates for some of the outdoor lighting fixtures, all of which exactly match fixtures chosen by Schaub interior architect Christine Pokorney.
"The Think Simple people are all kind of nerdy but a good nerdy," Engelhardt says. "They are all truly excited about what they do, and they are always looking for the next thing that will be great to use in a home."
That's one reason she recommended the company to a neighbor down the street. She loves her integrated home.
She says she told her son to be sure to include an automation system in his new home. "I said, 'Do it now before the house is finished. You'll be really glad you did.'"
____________