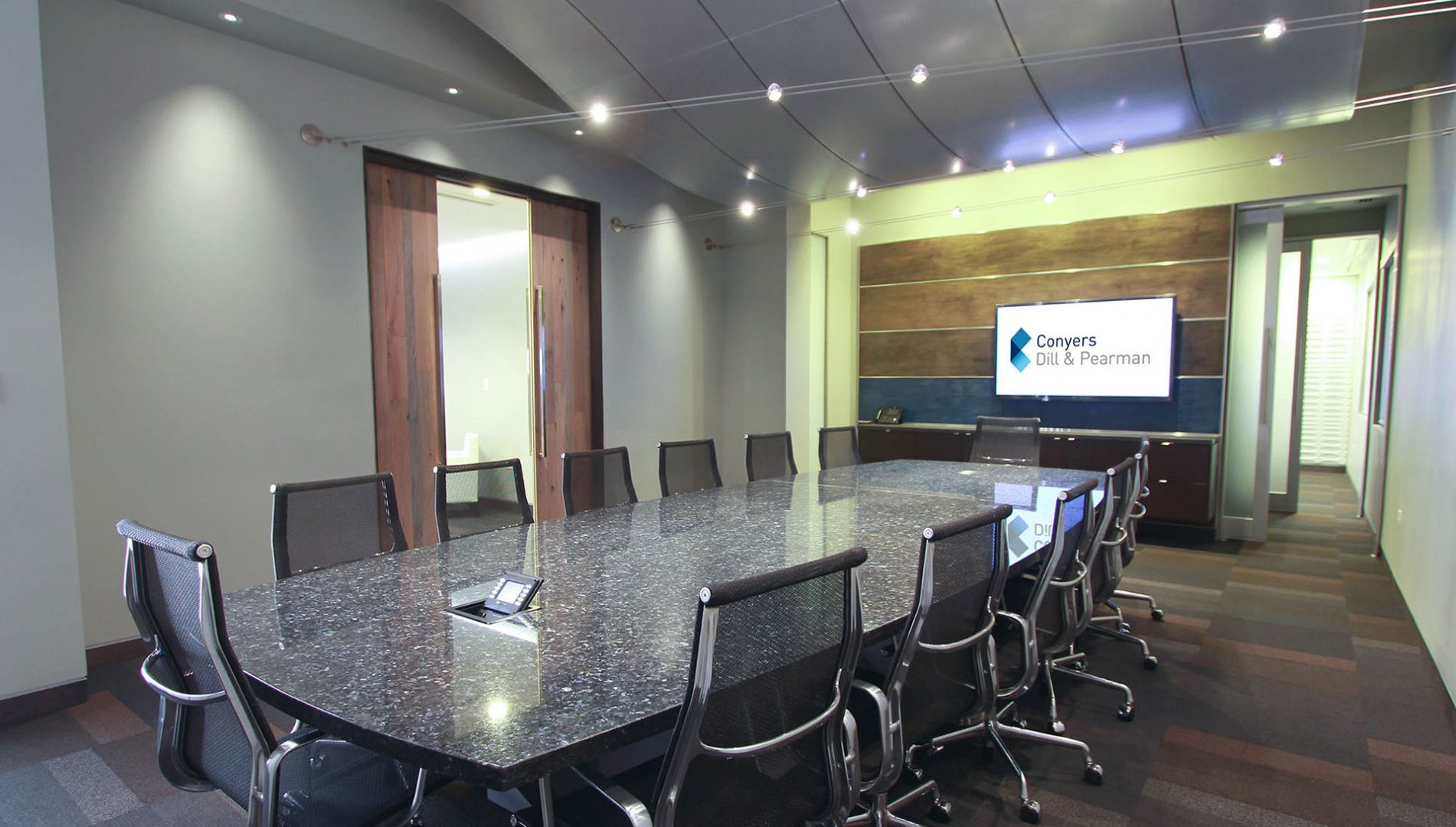 With clients in the Financial Times 100 and Fortune 500, plus international finance houses and asset managers, law firm Conyers Dill & Pearman is known for their meticulous work and timely advice. They have offices in the British Virgin Islands, the Cayman Islands, Bermuda, Mauritius, London, Hong Kong, Singapore and Dubai.
Planning new offices in Tortola, BVI, they asked their interior designer, Debbie Carson at OBM International, to recommend a technology integrator. She suggested they contact Think Simple.
Think Simple handled the IT and AV system designs and installation, first installing a wireless network throughout the offices using access points and a controller from Ruckus.
In a beautiful boardroom and smaller conference room that Carson designed, Think Simple integrated various audio visual and lighting control systems that needed to be very reliable and easy to use. They used Crestron control to simplify system operation, plus DigitalMedia switching to provide the highest-quality video and audio. Video sources include rack-mounted PCs, Blu-ray, and the solicitors' and barristers' laptops.
Think Simple typically recommends flat screens. Here we originally installed a 65" Samsung in the larger conference room and a 50" Samsung in the smaller, but recently upgraded to an 85" in the larger room and a 60" in the smaller."
One challenge was understanding the acoustical implications of a wave-pattern ceiling in the boardroom, which Think Simple engineers modeled in EASE. Another was working with the granite-topped boardroom table, which had to be carefully milled to install Crestron FlipTops at each end.
The FlipTops provide touch screen control of the AV, video conferencing and lighting, and include HDMI, VGA, audio connectors, and AC outlets.  A nice touch was the installation of USB jacks in the tables, so users could bring their presentations in on thumb drives, then load them on the rack-mounted PCs without having to walk to the rack room.
Shawn Moran, Conyers' Finance and Operations Manager, says "[Think Simple was] organized, hard-working, dependable and reliable in the presentation of design ideas and the work that he performed for us. Both the data cabling and the automated control system installations were highly regarded by our own information technology professionals.
"I would highly recommend the Think Simple team."