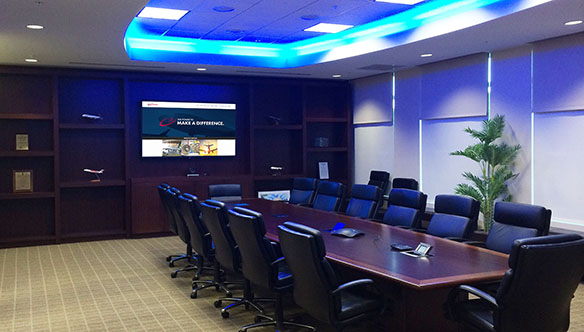 AeroTurbine Corporate Headquarters
AeroTurbine, based in Miramar, Florida, offers the aviation industry access to one of the world's largest pools of certified aircraft engines, parts, and supply chain solutions. It's the company the airlines depend on when they need a replacement engine for a commercial jet.
AeroTurbine's new, 264,000 square foot, LEED Silver corporate headquarters includes a conference center, a fitness room, office space, and an amazing warehouse that doubles as a jet engine maintenance facility and serves as the space for monthly all-staff meetings.
HHC Architecture designed the building's main lobby as a grand entrance for international visitors, with multi-level ceilings, granite tile, wood accents and dramatic lighting. Think Simple provided simplified control of color-changing LED fixtures in the lobby and conference center, making it easy for staff to match the accent lighting to a visiting client's corporate colors. With the touch of a button, they can choose any color or color combination, for example red and blue for American Airlines, red for China Eastern, gold for Lufthansa, or green for Frontier.
We also provided the audio and video integration, including Cisco video conferencing in all seven conference rooms and flat-panel displays up to 98", which allowed us to keep lighting levels high for the teleconferencing cameras.
We included a Crestron DigitalMedia network for the highest-quality HD video, Biamp signal processing for the highest quality audio, Revolabs wireless mics, satellite TV in the fitness center, and background music throughout. We also included a Sennheiser LSP 500 mobile speaker system for 'town hall' style meetings in the warehouse.
Crestron touch panels provide extremely simple operation of the lighting, climate and AV systems, Crestron Fusion Room Scheduling make it easy to reserve a conference room, and Crestron AirMedia offers wireless HD connections to the displays.
"One interesting detail was the aluminum rings we built to make the Crestron FlipTops fit perfectly into the boardroom tables," says Think Simple's Will Gilbert. "The client's standards were extremely high, but we were able to use our in-house CNC machine to meet them."